Intro
From catching the sunrise over a tropical rainforest to wrapping up a workday with a sunset surf session, Costa Rica provides a unique experience for digital nomads. Anna works remotely so we have some freedom when it comes to our adventures. A morning swim is our thing before punching in from our condo in Playa Flamingo. Here's what you need to know if you're considering making this beautiful country your remote office for any amount of time. 
Staying connected
High-speed internet access is a must for digital nomads, and Costa Rica actually has really fast internet with speeds often topping 100mbps. Major cities and tourist areas have reliable, high-speed WiFi, and there are countless cafes and co-working spaces ideal for setting up your portable office. Some remote locations might pose connectivity challenges, but with a bit of planning, you'll stay online and on task.
Power outages are a norm in many parts of the country. They may be the biggest challenge to overcome unless you're able to use  your phone as a wifi hotspot for a temporary connection.
Are you planning a trip to Playa Flamingo? Check out our vacation rental which is set up for digital nomads.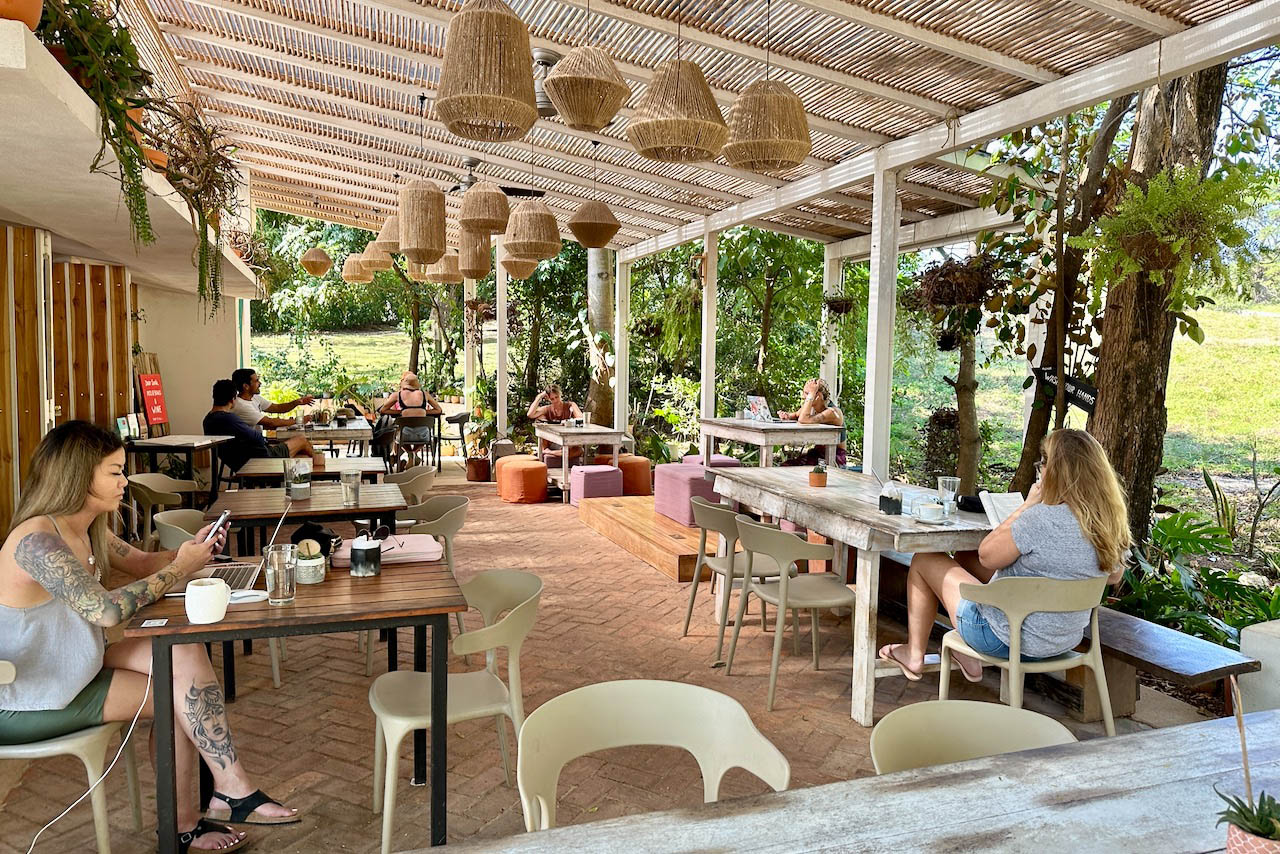 Visas and legal stuff
As of May 2023, visitors can stay in Costa Rica for up to 90 days on a tourist visa. Keep in mind that you must show proof of departure before entering the country. Recently, Costa Rica has announced a new Digital Nomad Visa that allows stays of up to a year with the possibility of extension, making it even easier to settle in for a while. Many digital nomads and residents end up being a perpetual tourist. They leave the country every 90 days before returning for another 90. Always keep an eye on current visa rules to ensure you're following local laws.
Applications must show proof of a stable net income of at least $3,000 per month ($5,000 for families). Mandatory medical insurance must cover you through the length of your stay, and the digital nomad visa requires a one-time fee. Read more about the Digital Nomad Visa here.
Cost of living
Costa Rica isn't the cheapest option in Central America, but it offers excellent value considering the quality of life. Accommodation varies from budget-friendly hostels to high-end apartments. Local markets and "sodas" (local restaurants) provide authentic and affordable food options. But remember, imported goods can be pricey, so embracing the local lifestyle goes a long way in keeping costs down if you're traveling for an extended period. 
Some local car rental companies offer extended rental rates that bring the cost down for monthly rentals. 
Knowing the language
While Spanish is the official language, English is widely spoken in tourist areas and by younger Costa Ricans. That being said, learning a bit of Spanish won't only help you in day-to-day interactions, but it will also better help you connect with the local culture and people. 
The lifestyle
Perhaps the biggest draw for digital nomads is the Pura Vida lifestyle. Translating to "pure life," Pura Vida is a philosophy that emphasizes slowing down, enjoying life's simple pleasures, and appreciating the world around you. It's a mindset that resonates with digital nomads, promoting a healthy work-life balance and encouraging you to make the most of your time in this tropical paradise.
Digital Nomad Essentials
A good travel backpack
One thing I've learned from my experience abroad is that a reliable backpack is worth its weight in gold. And the Peak Design 45L Travel Backpack is my new favorite. It's solid enough to endure constant travel, spacious enough for all your gear, and even has a removal internal camera unit for photography enthusiasts. From laptops to camera gear to that book you've been meaning to read, this backpack is your mobile workstation!
A cable organizer
We all know that cables have a mind of their own. Leave them alone for a second, and they transform into a confusing jumble. A cable organizer is the perfect solution to keep everything neat and easily accessible. I always bring this cable organizer for cables, chargers, etc. No more digging around for your phone charger or headphones!
Packing cubes
Packing cubes make living out of a suitcase or backpack much more civilized. By compartmentalizing your belongings, everything has its place, making it quicker to find what you need and keeping your bag tidy. Trust me, once you've tried them, there's no going back. I love these Suited Nomad Packing Cubes when I travel.
Travel Insurance
This one's huge. When you're hopping from place to place, having reliable travel insurance is a must. Safety Wing offers coverage tailored to digital nomads, with flexible plans covering everything from medical emergencies to trip interruptions. Don't leave home without it!
A good travel credit card
Not all credit cards are created equal, and the Chase Sapphire Reserve is proof of that. This card is a digital nomad's dream, with perks like access to airport lounges (hello, free drinks!), primary rental car insurance, and amazing reward points on travel and dining. Take a look here to see if this card is right for you.
Let's go!
The blend of diverse landscapes, warm weather, friendly locals, and a lifestyle that values balance makes Costa Rica a fantastic choice for digital nomads. Whether you're working from a beachside café or taking a conference call in a lush rainforest Airbnb, being a digital nomad in Costa Rica is about more than just changing your work location. It's about changing your lifestyle for the better. Check out our list of essentials.